Having not wanting to waste a good day of riding weather I thought about what to do. Instead of considering a list that was bracketed by limitations (what I can't do today), I decided to try and breakthrough to (what CAN I do today). Since the roadbike took some abuse and needs repairs the 90's hardtail Schwinn mountianbike was the chosen steed for today's challenging run. I was just going to run the Ruger PCC but at the last minute decided to take a pistol and the Glock bag that housed the SAR P8-L in hard Chrome and stuffed it in the backpack – nice to share same ammo. A sly grin emerged as I considered if running a PCC was cheating or just an advantage. But when you are creating an emerging sport and the rules are not yet set in stone, "some things get passed in the name of fast".
Bike: 1996 Schwinn Homegrown, RockShox Duke air fork 29″ front disk, 26″ rim rear. Brooks Champion Flyer sprung hand hammered copper rivets leather saddle from 2007 and a rockshox suspension seatpost. dual purpose flats/clip pedals. Oury Grips. Old school 8speed XT and triple front chaingring.
Route: over Monte Sano, across town and to the indoor range. Weather was a moderately hot and balmy 85 degrees with mild overcast most of the way. I actually got to the range ahead of schedule and rode around and wasted some time before they opened for the day.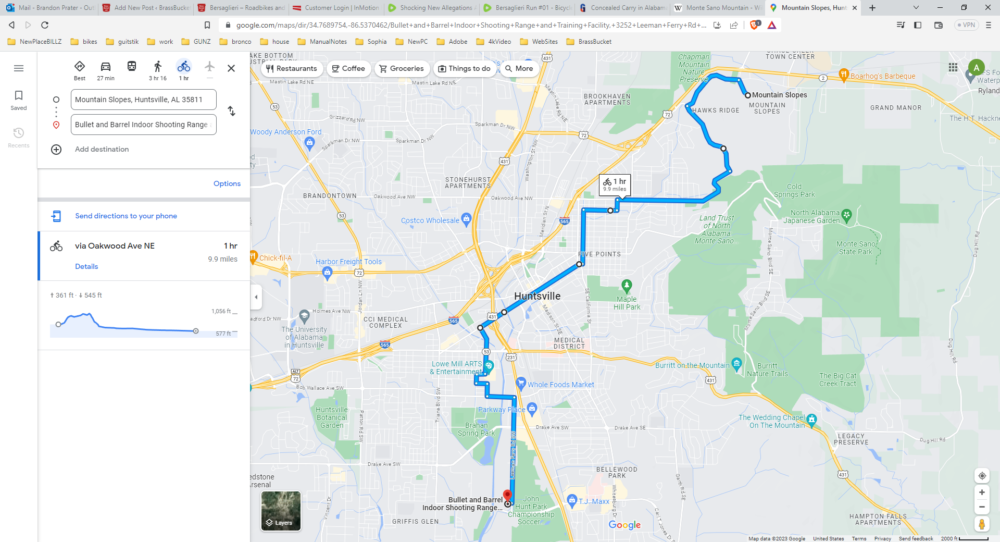 Rifle: Ruger PC Carbine in 9mm (Red White and Blue). Holosun 510C, 11port compensator, QD sling
Pistol: SAR P8-L in stainless Steel. lightened slide, popple holes, CZ Clone, All stock (polished feedramp), slide rides inside the frame. DASA, comes with 2 mags. I carry it sometimes in a shoulder rig. Cheaper than a glock or CZ.
Ammo: 124gn Precision Delta HPs over n320 in lightweight NAAS3 cases. All handmade / not factory
Bag: Old Cheap Tan backpack and an old pair of FatPants (I will no longer use). I took a pair of old fat pants and twisted the legs and folded a cuff to them in order to form some cushioning for the more delicate action ends. Then dis-assembled the rifle and put the action end down one pants leg and the mating action down the other and was just barely able to zip the whole thing up. The buttstock was the longest part having to ride the zipper over it as it rode diagonal in the bag. Total Weight was about 25 lbs (heavy but doable). A previous tear that had formed prior did get noticeably worse. It was in the shoulder/neck area across the back, center seam. Possible repair.
Results: Meh. The pistol shot and felt great, amazing in fact, James Bonds smooth and comfortable. The rubber grip is my fav for carry or mild range session. Fits the hand well. The front sight was a bit tought to see in the dimly lit indoor range with my aging eyes. I shot low at first and adjusted aimpoint to get better hits at 10/15 yds.
Rifle was meh as well as far as groups go. I had previously been shooting this Rifle at 300yds so there was some windage left in it. As I didn't bring my adjustment tool, I tried to just hold and that did work, but not as well as zeroing in at 25yds. So whatever, but lesson learned. I only picked the zombie because it had the most targets/groups to shoot at that was in stock.
So that concludes Run #02 – 2 Gun DONE… Stick around more to come.