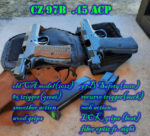 So, I got bored and made a new video about new(to me) old CZ97B Safety model.
I got some video editing practice. Digg the 97s (CZ FuddRunner) – it was a great day!
The trigger action and shape of the older one has the slight nod, but the newer model has better sights and LOK grips(upgrade). You can see typical accuracy of 230 RN Reloads at 50 yds. Not the best shooting but I love the self healing targets on the dirt berm – you get instant feedback. Round 1 is standing and Round 2 are benched and bagged.