Ive been looing forward to this test for a while and finally made it to the range to make it happen.
The goal was to test High Velocity match ammo @200 and see if I could have a 50yd(or 100yd) zero and use BDC reticle out to 200yds.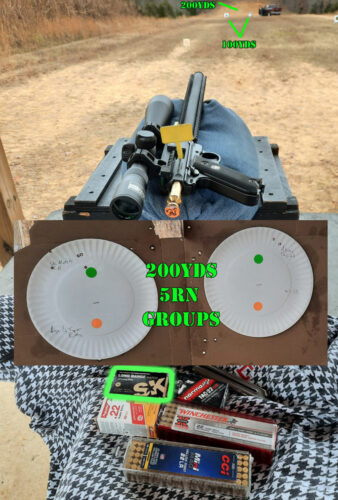 The Rig:
Ruger Mk 4 lower
gutted for Volquartsen trigger kit
Volquartsen Gold Bolt w/ High Velocity Spring kit
MaddMacs long barrel
Nikon Buckmaster 4-12x BDC reticle
The Ammo:
CCI Mini-Mag – warm up/fouling
SK Long Range Match Ammo
Aguila Super Extra (40gn 1255fps)
Norma Tac-22 HP Target(40gn 1100fps)
Winchester Super Extra (40gn 1300fps)
The setup:
Benched and bagged(front and rear)
200yds
paper target
old spotting scope
Good conditions (light wind, slightly cloudy, hard to spot shots)
I walked past the 100yd line where some rifles were being shot. 200 yds I setup a 4″x4″ plastick self healing target on the berm for sighters and foulers. I spotted in with CCI mini-mags, I figured that would be good to start with because I have more of them than anything else and will not be shooting them with this pistol that much.
With each ammo I adjusted in on the self healing target to get proper elevation. Some required elevation adjustments. Once sighted in I took 5 shot groups on paper. It was hard to spot shots today, I'll have to run another test with the Aguilla vs the SK ammo. I can't be sure, but I think the closest three was SK, and aguilla was shooting a little left on the side of the plate. I need to run those 2 again.
The Winchester 1300fps was very unwieldy at 200 yds. I couldn't even get 1 hit on the plastic self healing target – general grouping was 12″, so I just passed on paper.
The norma tac was also strange. it seemed to shoot dead on and then high, vertical stringing. The other three shots of this group were high.
Conclusions:
Run the SK and Aguila again. Confirm dope. Then setup at 100 and see if I can get BDC info/holds for 125,150,175,200.
I think I could do better with a better scope. I'm still on the fence about what to keep on it. The rifle scope option opens more scope availability and mag range.
1719 total views, 2 today