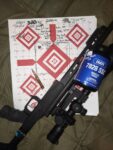 Took the new Mile Rifle to Skyline to group in @ 200yds and run the 2n'd round of ladder loads. All rounds with H225 ELDM over 7828SSC or N565. I shot all but the hottest rounds for each powder, making a specific point to leave the hot rounds for next time – enforce the It's OK to not shoot all bullets. I was expecting bolt lift on some of the hotter rounds but it was silky smooth through all rounds on ejection. There were a couple of rounds that were hard to chamber. In general the slower rounds were pretty soft shooting. Not doubt the EC Tuner brake helping with that. I did notice some recoil on the hotter rounds. All brass looked good with primers starting to flatten out on the hotter rounds. There were ejector marks on bras before I got it, and there are marks on these fired cases, a bit more prominent on the hotter rounds, but I've seen worse.
As far as velocity goes, I was able to get almost 3000 fps with both powders. N565 has better fill at 80.0gn @ 2950fps. 7828SSC had 77.0gn @ 2977. I loaded a couple of lower charge test groups with turned necks and shot them as well. The lower charge group of 7828 69.0gn had an excellent 1/2MOA 200yd 3-shot group! It was the first group I've ever shot with this rifle. I loaded 5 shots in these groups but the first 2 shots were to get on paper. First shot was way high because I had the base left at 25MOA. set to 0 and took another shot and spotter said I was way low, just above the lower PVC cross-pipe of the target stand. I backed the scope out to 24x where the hashes are 1MOA. I then used the hashes to measure rise to center of target to be 15MOA. Made the adjustment on scope and BANG, first shot dead nuts center. Second shot left me looking but with tighter new 50x F class glass I was able to tell that the 2nd shot piled into the same hole. I spotted it before my spotter actually and started laughing. Third shot was a tad low but I'll take it!
I need to lower the cheek riser just a tad more if possible. The IveyTron is pretty tall, so I just use a low cheekpiece, tilt my head and use my left side dominant eye. It is just a tad too low and I can see just a shade of the top of the scope looking at the target. It's a note when using the tall adjustable base. I will say that I didn't notice the new 4″ brake on the end of the barrel so need to also keep that in mind when shooting LR with lots of elevation.
My shooting buddy/spotter brought his pro chrono that hooks up to blue-tooth and it worked great. Took a minute to get it settled up with the phone, but after that was smooth sailing. Additionally with that setup you can preload your groups to chrono instead of doing that at the range. That can save a lot of range time and keep things moving. The Lab Radar is nice, but the cost and functionality of the pro chrono would be my choice.
Next up is loading up some more of the 69.0gn of 7828SSC, anneal the other cases, then neck turn 40 more cases, leaving 1/2 of them turned and 1/2 1x fired.