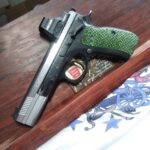 The new Holosun 507s are now shipping. I got mine at the LGS and test fit it on the slide in this video:
I will most likely run it with the 32MOA ring/dot combination or the 20MOA ring only.
I used the short screws and seems GTG. More testing will be done soon.